Abrasive wire foam cutter A100B
Abrasive wire foam cutter A100B
---
https://www.alosindustrials.com/maquinas/cortadora-de-hilo-a10b/
---
30-day money-back guarantee
Free Shipping in U.S.
Buy now, get in 2 days
The A100B machine from Alòs Industrials is an abrasive wire foam cutter.
This machine is able to cut contours and sheets in different materials, both flexible and rigid.
Its aluminum structure allows to obtain professional results with a minimum investment. Moreover, the design of the machine allows the use of foam blocks of different sizes, with ease.
The cut is made with an abrasive wire of different diameters (1.1mm - 1.6mm) and wrappers (depending on the type of foam) that turns at high speeds depending on the type of material to be cut.
The machine has several threads to obtain the optimum quality and performance.
The most common materials it cuts are polyurethane, polypropylene, polyethylene, expanded polystyrene, rock wool, extruded polystyrene foam, mineral wool, polyisocyanurate and many more.

The A100B is intended for a variety of industries, such as:
Furniture & upholstery industry: cutting a variety of shapes from complete blocks of flexible polyurethane foam (chairs, sofas, materials, headrests, pillows, beds, sheets, fillings...)

Insulation industry : cutting various types of insulation (chimneys, pipes, walls, doors, fire protection, etc.)

Construction : cutting angle plates for ceiling insulation

Medical industry (memory foam used for soft orthopedic items, beds, wheelchairs...)
Packaging industry
The machines of Alòs Industrials comes with its CE certificate of quality and guarantee.
Highlights

Low maintenance

Capacity for large blocks

Easy loading and unloading of foam blocks

Wide variety of compatible abrasive wires

Ease of operation

Structure made of aluminum profiles

Quality and CE guarantee
Technical characteristics

| | | | | |
| --- | --- | --- | --- | --- |
| Total dimensions (mm) | According to the chosen variant | | XY Guiding System | High-precision, self-lubricating, leak-proof and backlash-free square linear guides with recirculating balls |
| Total power (kW) | 6 | | Interfaces | USB, Ethernet |
| Weight (kg) | According to the chosen variant | | Operating system | Windows |
| Machine lubrication system | Not required | | Software | FastCutter |
| Noise level (dBA) | According to the chosen variant | | Precision (mm) | ±0,001 |
| Supply voltage | 3~ 400 Vac - 50/60 Hz - ±5% | | Control system | Numerical control console |
| Operating temperature (ºC) | -5 - 45 | | Axis movement | Interpolation of all its axes |
| Relative humidity (%) | 0 - 85 | | Supported formats | plt, dxf, EPS/AI |
| Pneumatic supply | Not required | | Supported materials | Foams of all types |
| Protection systems | According to the chosen variant | | Maximum speed (m/min) | 5 |
| Structure | Anodized aluminum | | Wire diameter (mm) | 1,1 – 1,6 |
| Material loading area | On all four sides | | Y axis height (mm) | Y1300 |
| Accuracy (mm) | ±0,001 | | Wire tensioning | Pneumatic |
| XY Motors | AC Servo Motors | | Number of wire | 1 |
| XY gearboxes | Direct drive | | Length of wire (mm) | According to the chosen variant |
| XY transmission | High precision helical ground gear and rack | | Abrasive wire speed (km/h) | 280 |
Accesories
Wire breakage detection

Software: FastWire

Computer with USB port

5 abrasive wires

Remote control

Pneumatic thread tensioner
Galeria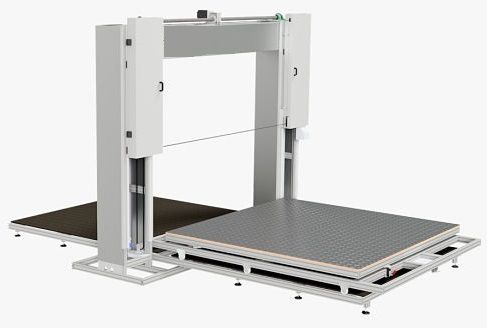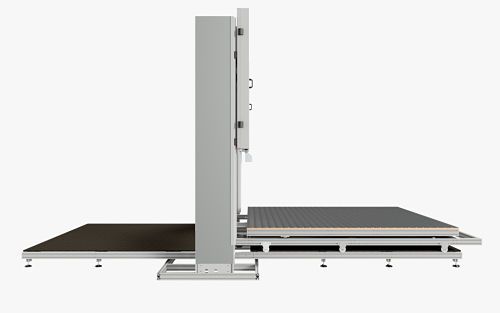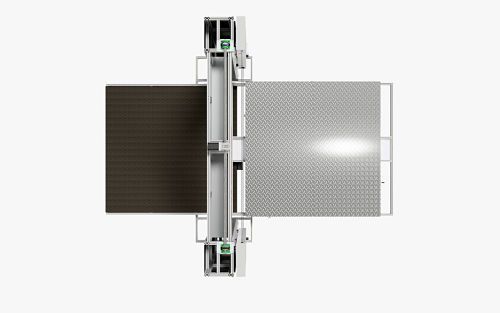 Alta producción
Mantenimiento mínimo
Fácil instalación
Montaje sencillo
Últimas tecnologías
en diseño y fabricación
Variantes disponibles
Este tipo de máquina está disponible con una combinación entre las diferentes dimensiones disponibles de ancho y largo de la máquina.
Tenemos 4 modelos disponibles:
Cortadora de hilo abrasivo A10B 1200

Dimensiones:
1200X2000
Altura 1300
Cortadora de hilo abrasivo A10B 2000
Dimensiones:
2000X2000
Altura 1300
Cortadora de hilo abrasivo A10B 2500
Dimensiones:
2500X2500
Altura 1300
Cortadora de hilo abrasivo A10B 3000
Dimensiones:
3000X3000
Altura 1300
Tipo de hilo
Abrasivo, acero inoxidable...
Diametro del hilo
1,1 – 1,6 mm
Velocidad máxima de trabajo
5m/min
Potencia consumida
6400W (depende de la configuración de corte)
Estructura
Aluminio anodizado
Accesibilidad
Completa por los cuatro lados
Alimentación eléctrica
4KW - 400 V 0 - 50Hz
Interfaz
Ordenador con puerto USB
Sistema operativo requerido
Windows XP, Vista, W7, W8 ó W10
Accesorios
para complementar tu cortadora de hilo abrasivo A10B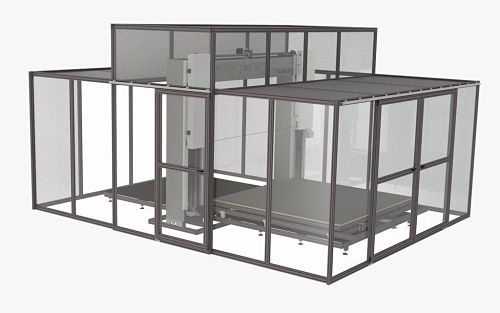 Cierre completo con techo
Es la perfecta solución para las empresas que trabajan en un espacio compartido con otras máquinas, cuando la máquina se cierra, el residuo no contamina otras superficies. El recinto puede personalizarse incluyendo puertas delanteras y traseras enrrollables. El cierre también incluye adicionalmente medidas de seguridad para cerrar el área cuando la máquina está trabajando.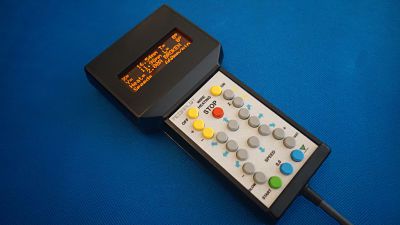 Consola control

Proporciona una visión general de los parámetros actuales de la máquina. Por ejemplo, posición del hilo, velocidad de corte, velocidad de avance, etc.
Permite ajustar los parámetros sobre la marcha durante el corte: aumentar / disminuir la velocidad de corte, aumentar / disminuir la velocidad de avance etc. Iniciar / detener.

Permite un control manual completo del movimiento de la máquina en todos los ejes
Corte de figuras para diferentes aplicaciones e industrias
Indusria tapicera
Industria de la construcción
Industria del aislamiento
Industria mobiliaria